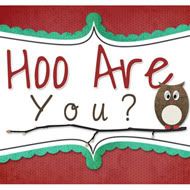 #58
This is My First Time Joining in on the Hoo are you Link party!
1. Do you sleep with the window open or the fan on no
matter
what the weather is like?
With us it all depends on the weather so my answer is No
2. What is your favorite comfort food?
Hmmm , I don't really have one, I would rather have a cup of coffee or a soda , I'm a Huge caffeine Junkie
3. Do you ever go to a chiropractor?
Nope, it Freaks me out , I went with my mother once when I was younger and that is all it took for me to say NO way , Plus I have fibromyligia just thinking about it hurts !
4.What is your most memorable Halloween costume growing up?
When I was in grade school I was a bride I felt so pretty , I ended up using that picture on my wedding invites
5.Do you prefer the sunrise or the sunset?
I would say Sunrise a Nice hot cup of coffee and a
pretty sky who could ask for anything else!
Stop over and Fill our your Questions!